GATEWAY UCC LAUNCHES SPRINT II ACCELERATOR PROGRAMME

Innovation and incubation centre, Gateway UCC, supports startups and entrepreneurs to commercialise research through a new round of SPRINT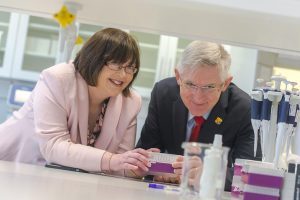 Cork, 5th May 2017:  Innovators and entrepreneurs will benefit from a new phase of the SPRINT accelerator, announced today (Friday) by UCCPresident, Prof Patrick O'Shea at Gateway UCC.
The SPRINT accelerator, now in its second year, is particularly focused on commercialisation of research and market access for novel solutions. Leveraging the experience of successful entrepreneurs and mentors, business support agencies and expert business coaching, the SPRINT accelerator provides support to drive commercial success, accelerate route to market and ultimately create jobs from leading edge solutions developed by researchers in UCC.
The accelerator is supported by Gateway UCC, Bank of Ireland, Enterprise Ireland, Cork City LEO (Local Enterprise Office) and Cork City Council.
Speaking at the launch of SPRINT II, UCC President Prof. Patrick O'Shea said, "SPRINT is a true example of the "triple helix" at work; the University's knowledge and IP based start-ups being supported by government agencies – Enterprise Ireland and LEOs – as well as the local authority, Cork City Council, being mentored by highly experienced business entrepreneurs, all working together to develop sustainable, growth-orientated and scalable IP-based companies."
SPRINT II has already signed up 12 early-stage startups, including one which offers technologies for constant monitoring of brain health for at-risk newborns and a new diagnostics platform for IBS (irritable bowel syndrome), which is the most common gastrointenstinal disorder affecting over 40 million people in Europe alone. As well as med-tech innovators, SPRINT II participants are also commercialising solutions in renewable energy (both hardware and software), data analytics, emergency management and scientific instrumentation among others.
"Research in our Technology Centres and Institutes is delivering valuable and novel solutions to many of the issues we face today. Supporting innovators from idea generation to startup, with a particular focus on commercialisation of research, has been key to the success of Gateway UCC, now recognised as a leading innovation and incubation centre nationally," said Myriam Cronin, Manager of Gateway UCC.  "Following the success of SPRINT, we have adapted and grown the accelerator programme this year, and we are delighted to announce a second programme of SPRINT this year."
"Enterprise Ireland works closely with emerging companies to ensure that they can access global markets, attract investment, create jobs and scale quickly. Increasing the number of high potential startups from 3rd level is a key focus of Enterprise Ireland's strategy and we are delighted to support the SPRINT Programme which identifies and supports exciting leading edge technologies being developed in UCC," said Martin Corkery, Regional Director at Enterprise Ireland.
Success stories of 2016 SPRINT programme were recognised at the launch of the next round of the accelerator. UCC President Pat O' Shea presented the "Sprint's Most Investible Start Up" Award 2016 to emerging medical device company, Skellig Surgical, which focuses on development of user-centred, minimally invasive technology.  The UCC President also presented the "Sprint's Most Revenue Generating, Market-Ready Award"  to Food Choice at Work, which delivers the ultimate healthy eating management system in the workplace. Both companies are resident in Gateway UCC and together they employ 12 people currently.
The SPRINT Accelerator is the first structured learning programme from commercialisation in the University covering the A to Z of how research led business are formed and scaled.
The state of the art facility at Gateway UCC provides a unique support ecosystem for start-ups including mentoring and business coaching, access to financial advice and startup funding, specialist seminars, workshops, introduction to venture capital opportunities, business angel networks and access to UCC's network of researchers and facilities together with excellent support through linkages into academic departments.
Since opening in 2011, GATEWAY UCC Business Incubation & Innovation Centre has supported over 40 start-ups, which between them now employ 250 people and contribute an estimated €15 million in wages and €5 million in tax annually to the local economy.
Captions: At the launch of the new GatewayUCC accelerator programme, SPRINT II, are  Professor Anita Maguire, Vice President of UCC – Research and Innovation and Professor Patrick O'Shea, President of UCC
CONTACT
Interested in working together? We'd love to hear from you.
CAMEO Communication - info@cameo.ie