ROZANNA PURCELL & LIFEWAY KEFIR PARTNER TO PROMOTE BENEFITS OF PROBIOTIC DRINK
Lifeway Kefir, Irish made cultured drink promotes 'inside out goodness' with Natural Born Feeder
Cork, 6 November 2017: Renowned food writer, chef and model, Rozanna Purcell, has partnered with the Irish-made fermented, cultured milk drink, Lifeway Kefir.  As an advocate of a balanced, healthy lifestyle and diet, Rozanna regularly drinks kefir as well as using the milk substitute in recipes on her food blog, Natural Born Feeder.  High in protein, low in fat and packed with good bacteria (probiotics), this fermented milk drink is made locally in West Cork using fresh milk from free-ranging, grass-fed dairy cows  and recently launched on the shelves of SuperValu and Dunnes Stores nationwide.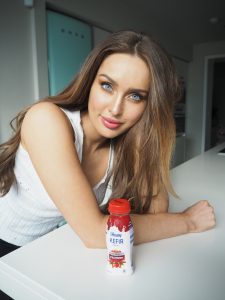 "Lifeway Kefir is indeed an Irish superfood with a myriad of natural benefits ranging from immunity to aiding digestion through 'good gut bacteria', while being rich in protein, vitamins and minerals and also low in fat. Made in West Cork, the Lifeway Kefir range includes original flavour as well as mango, blueberry and strawberry smoothies, which make it a great drink for both children and adults as well as an ideal ingredient in recipes as a milk or cream substitute," said Serge Poltinnikov, Lifeway Kefir's global business development director at the announcement of the partnership with Rozanna Purcell.
"I regularly include fermented foods into my diet, and I love to use Lifeway Kefir in dishes to enhance the nutritional value of meals.  I've been experimenting lots with including kefir into recipes such as smoothies, pancakes, coronation chicken, pizza and more and I can't wait to share these healthy recipes. Taste is so important and Lifeway Kefir tastes great so it's easy for me to incorporate into my diet," said Roz Purcell.
As a fermented milk, kefir has lots of great benefits some being that it contains high levels of vitamin B12, calcium, magnesium, vitamin K2, biotin, folate, enzymes and probiotics.  Kefir's healthy cultures can aid digestion, help your skin, improve your mood and boost immunity so it's a real go-to source for high protein, low fat drink that tastes great and works from the inside out to give your body natural nutrients that are easily digested.
Lifeway Kefir products are low fat, gluten free, GMO free and 99% lactose-free and made with only natural ingredients including live cultures.
In the coming weeks and months, tasty recipes created by Roz Purcell using Lifeway Kefir will be featured on her food and lifestyle website, NaturalBornFeeder.com and across her social media channels.  With delicious options such as Coronation Kefir Chicken to Kefir Pizza, we can't wait to try out some of the recipes as part of the collaboration between Rozanna Purcell and Lifeway Kefir.
For more information, see www.lifewaykefir.ie or  www.naturalbornfeeder.com
CONTACT
Interested in working together? We'd love to hear from you.
CAMEO Communication - info@cameo.ie