St Columba's College Wins 

CanSat

 Ireland 2017 National Finals
CanSat Ireland National Winners, St. Columba's College (Dublin) will represent Ireland at the 2017 European CanSat Finals in Germany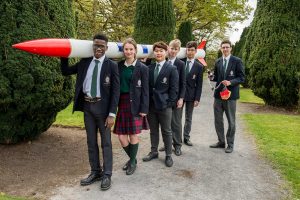 Following 2 days of strong competition in the CanSat Ireland National Finals, students from St. Columba's College in Dublin won the coveted national title and will represent Ireland at the 2017 European CanSat Finals, to be held at the Applied Space Technology and Microgravity (ZARM) at Bremen University, Germany from 28 June to 2 July 2017.
The CanSat Ireland competition is a joint collaboration between ESERO Ireland and the CEIA and is co-funded by the European Space Agency and Science Foundation Ireland.
A CanSat is a simulation of a real satellite developed in the size and shape of a soft drink can.  A European Space Agency initiative, CanSat is designed to inspire young people to pursue a career in the STEM (science, technology, engineering and mathematics) with the ultimate goal of ensuring the availability of a highly qualified workforce in the space industry of the future.
In recent months, regional competitions have taken place across Ireland, in partnership with the Institutes of Technology in Athlone, Cork, Dublin, Galway, Limerick and Sligo.  
Regional winners from Moate Community College (Athlone IT),  Mount Mercy College (CIT), Belvedere College and St. Columba's College (DIT), Colaiste Muire Ennis (GMIT), Kilrush Community School (LIT), and Mercy College (ITS), gathered in Emo Court, on Thursday 27 April, and launched their mini-satellites in rockets built and launched by the Irish Rocketry Society.  On Friday, 28 April, these national finalists presented their analysis, recordings and flight patterns to the judging panel consisting of Neil Murray ESA Engineer, Niall Smith CIT/Blackrock Castle Observatory and Stephanie O'Neill, ESERO Ireland Manager. 
Congratulating  the 2017 CanSat Ireland National Winners, Stephanie O'Neill, ESERO Ireland Manager, Science Foundation Ireland said:
"ESERO Ireland's aim, with the assistance of the European Space Agency, is to foster the skills that are required by companies operating in the space sector at an early age. Irish teams have now enjoyed  success at the European CanSat competition over a number of years, tackling complex design, engineering and mathematical challenges as well as the softer skills of teamwork, problem solving and communicating with the support of their mentors all the while gaining exposure to the exciting opportunities which a career in space science can offer.  I would like to congratulate the team from St. Columba's College on their great achievement and wish them every success as they go on to represent Ireland at the European CanSat Competition this summer. "
"CanSat is a unique space project that simulates a real satellite which fits into the volume of a soft drinks can – students get first-hand practical experience of a real space project.  By encouraging and exciting transition year students about the possibilities of a career in space and STEM, this initiative is not only effective but great fun for students, and we look forward to seeing more entries across the country each year," said Dr. Eamon Connolly, Electrical and Electronic Engineering Promotion Officer,CEIA – Cork's Technology Network.
Sixteen teams will participate in the 2017 European CanSatFinals, which will be held at ZARM in partnership with the University of Bremen from 28 June to 2 July 2017.  There will be 14 winners of CanSat National competitions from Belgium, Czech Republic, Denmark, Germany, Greece, Ireland, Italy, Portugal, Poland, Romania, the Netherlands, Spain, UK and Nordic countries as well as an additional two teams coming from countries without a national competition but selected by ESA.
In previous years' students from Ireland have achieved notable success in the European CanSat competition, run by the European Space Agency (ESA). The competition is a joint collaboration between ESERO Ireland and the CEIAand is co-funded by the European Space Agency and Science Foundation Ireland.

Industry Sponsors of the CanSat Competition are Limerick Based Arralis, and Dublin based Xilinx Ireland as well as Industry Cluster Group MIDAS Ireland.  Speaking on behalf of Xilinx Ireland and MIDAS Ireland, Peng Lim said "Xilinx and Midas Ireland are delighted to support this exciting competition which has all the right ingredients – Hardware Design, Software Design, Systems design and Team Work to shape our next generation Engineers."
Caption:
Following 2 days of strong competition in the 
CanSat
Ireland National Finals, transition year
students from St Columba's College, Dublin won the coveted national title and will represent Ireland at the 2017 European 
CanSat
 Finals, to be held at the Applied Space Technology and Microgravity (ZARM) at Bremen University, Germany from

28 June to 2 July 2017

. Pictured with the rocket that launched their winning CanSat (Satellite in a Soft Drink can) are
Harry Oke Osanyintolu, Caroline Neincke, Ji Woo Park, William Zipman, Leonard Lopez and Ted Johnson
CONTACT
Interested in working together? We'd love to hear from you.
CAMEO Communication - info@cameo.ie