KBC BANK MORTGAGE LOUNGE COMES TO CORK
Making Mortgage Sense with KBC Bank at City Hall Cork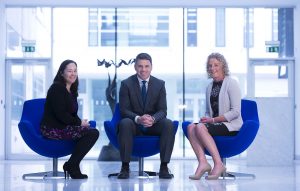 Wednesday, 10 May 2017: Bringing together property, mortgage and legal advisors at one event to help first time buyers and homeowners considering a move, the KBC Mortgage Lounge returns to Cork's City Hall on Thursday, 25 May 2017.
From bidding on your dream home, to legal obligations and securing a competitive mortgage, the KBC Mortgage Lounge will provide all the necessary information to make informed decisions when it comes to buying a new home.
Speakers at the Cork KBC Mortgage Lounge include Sean Michael Collins, Area Manager (South & West) with KBC Bank, Helene O'Donovan of Fitzgerald Solicitors and Ann O'Mahony of Sherry Fitzgerald, who will be on hand to share, simply and clearly, useful tips and insights into home purchase and the mortgage process from beginning to end.
"The Cork KBC Mortgage Lounge is particularly timely; the housing market here is quite active again, with property prices increasingly slowly but steadily," said Sean Michael Collins, KBC Bank.  "To help first time buyers, and those considering a move or switching mortgages, KBC Bank has recently lowered its mortgage rates and offers some of the most competitive mortgage rates in the country on variable or fixed term rates. The line up at the KBC Mortgage Lounge is really designed to help people get the best information and advice on buying a house and all are welcome to attend this free event in the city centre."
For more information or to register for this free event, visit www.kbc.ie email events@kbc.ie
Captioned photos – Helene O'Donovan, Fitzgerald Solicitors with Sean Michael Collins, KBC Bank and Ann O'Mahony of Sherry Fitzgerald will be on hand at the KBC Bank Mortgage Lounge in Cork City Hall (Civic Offices) from 6pm to 8pm on Thursday, 25 May.  Pic. Cathal Noonan
CONTACT
Interested in working together? We'd love to hear from you.
CAMEO Communication - info@cameo.ie