'WHAT'S YOUR STORY' MOVIE COMPETITION WINNERS ANNOUNCED
Entries to Trend Micro's Video Competition show Ireland's young people are very aware of the need to manage their smartphone usage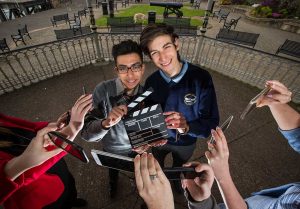 Cork, 2 May 2017: Entries to a video competition to promote online safety, What's Your Story, have overwhelmingly demonstrated that the Irish youth understand the need for balance in their digital lives.  With a record number of entries this year to Trend Micro's video competition, the winning video "Power Off" was created by students from Coláiste Muire Cobh and Cobh Community College in County Cork.
"This year we asked students 'what would you change about your digital life?' and more than two-thirds of the entries related to obsessive social media behaviour and how smartphones consume such a huge part of their lives. Aside from the obvious opportunities presented by technology, the videos highlighted the importance of balancing time online and offline," said Nicola Buckley, What's Your Story Programme Manager at Trend Micro EMEA.
As well as the overall winning video "Power Off" created by Rithik Makker and Mattia Nardon, Sam Mulcahy also Coláiste Muire in Cobh won Best Individual (8-12 years) category for his comic video "Bill's Obsession with Social Media".
Commenting on the entries this year, Derek Chambers, CEO Reachout Ireland said, "The 'What's your Story' competition really tapped into one of the most important issues for Irish young people, their relationship with technology and how to manage it. This is something that we're hearing about all of the time through ReachOut.com and the competition entries really resonated with us. Young people are telling us about their digital lives and we need to pay attention, we may even find it helpful in our own personal battles with digital overload."
The Secondary School Category (13 years plus) was won by Loreto College in Cavan for their 2 minute video entry called "Nomophobia" describing the angst suffered by students when without their smartphones for a period of time.  "My Road to Recovery" by Rachel Thorton from Co. Kildare won Category Winner (13 years plus) for her movie about taking control of her technology which had a hugely positive impact on her quality of life.
The winning Primary School Category (8-12 years) was won by Togher National School from Dunmanway, Co. Cork for their video "Access Denied" which discussed what they would change about the internet, in particular issues relating to poor broadband, cyber safety and digital age of consent.
A group of young students from Boherbue in Galway won the Group winners (8-12 years) category for their video "Changing Online Perceptions", while the Group winners (13 years plus) was won by a group from Bohermeen in Co. Meath for their "Breaking the Silence" video again dealing with social issues caused by smartphone overuse.
Judges of the What's your Story competition span a diverse range of companies and organisations working in the area of internet safety, media literacy, and technology from organisations like WebWise, Young Irish Film Makers, TY Ireland, ReachOut, Facebook and Twitter.
Also judging the competition, Garry McHugh, Director of Young Irish Film Makers said:  "The standard of film making was excellent across the board.  The young film makers showed fantastic creativity, strong storytelling and a great sense of humour thrown in.  I think we are looking at the next generation of content creators and film makers of Ireland."
Delighted at the Cobh schools' success in this national competition, Louise Daly, teacher at Coláiste Muire Cobh said,  "Phones are a really powerful tool and our students are using them to create content, broadcast news and educate everyone. The competition itself focused teachers and students on our digital behaviour. Classes had conversations about the real potential the device in our pocket has. For that reason, schools should get involved. Once you have access to a smartphone you can get involved.  After that, it's about sparking that creativity that lives in all schools. It's important to remember there are many lessons adults can learn from these inspirational clips."
Pictures have been sent to the picture desk by Cathal Noonan. Captions are below and embedded in the images.
To view the video winners, click on the links below.

Overall Winner   Power off  €2,000 – Cobh, Cork
Category Winners:
School 8-12         ACCESS DENIED  €1,000  — Dunmanway, Cork
Individual 8-12 Bill's Obsession With Social Media €1,000  — Cobh, Cork
Group 8-12         Change Online Perceptions €1,000 – Boherbue, Galway
School 13+          Nomophobia €1,000 – Loreto College, Cavan
Individual 13+   My Road to Recovery €1,000  — Kildare
Group 13+           Break The Silence €1,000 — Meath
Caption: Mattia Nardon, Cobh Community College and Rithik Makker, Coláiste Muire, Cobh celebrate winning the overall prize in the Trend Micro 'What's Your Story' video competition for their video entitled "Power Off". The video discussed the importance of balancing social media in young people's lives, which was along with social media addiction was a recurring theme in this year's competition.
CONTACT
Interested in working together? We'd love to hear from you.
CAMEO Communication - info@cameo.ie